Dark spots are particularly a result of intake of an extra quantity of melanin; as explained by the leading dermatologists. The additional intake of melanin works as the major cause of several skin problems. Melanin level can be induced by sun exposure, hormonal changes, birth control pills, environment and stress. Apart from these factors, the use of harsh products, creams and waxing products can also lead to dark spots on your face.  There are many natural treatments for dark spots. One of them is Fairlook lotion. With Fairlook, you can get healthy and glowing skin without any side-effects.
The ultimate quest for a self-conscious person is to have a healthy and flawless skin irrespective of the age they may belong to. Instead of using makeup products to bring out the beauty, it is better to find ways that can enhance your natural look.
How can natural products treat dark spots?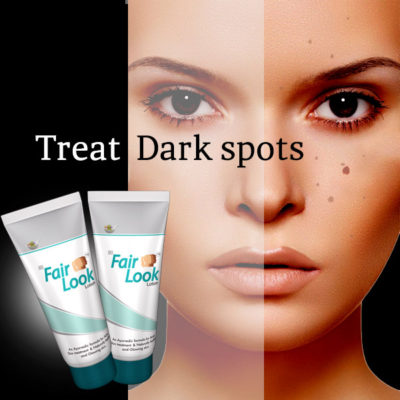 Chemical based products have a possibility to further induce negative effects on your face. Moreover, they might not suit your skin type and result in skin damage. Alternatively, Fairlook is a 100% naturally created lotion, made up of high quality and safe herbs. The lotion helps in nourishing your skin by giving you cosmetic benefits without any harmful ingredients.
The product is 100% safe or all types of skin, male or female or young kids. You can apply it anywhere on your body. We do expect appreciation of beauty, from our loved ones so, when you shall apply Fairlook to get glowing skin, it will make you feel more confident and healthy.
The natural cosmetics have lately gained a lot of exposure because of their positive effect on our skin. No matter whether you are going to purchase a hair lotion, nail polish, powder, skin care cream or any other product, Ayurvedic properties are present in a maximum of the best seller cosmetic products.
How are Fairlook ingredients beneficial?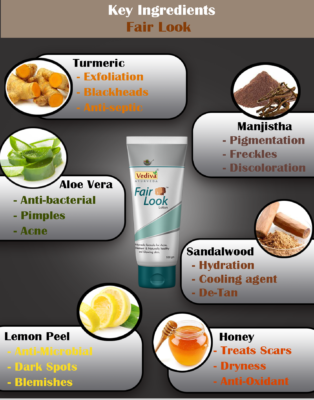 Fairlook has the benefits of Aloe Vera, Turmeric, Chandan and several other herbs that not only gives you freedom from acne, dark spots and pimples but also gives you the power to fight against potential dermatological diseases.
Ayurvedic products are free from chemical preservatives like urea, and formaldehyde. But, the Ayurvedic lotion Fairlook is naturally preserved so that even after years it does not bring up any skin issues or health problems for its users.
Why are natural products healthy?
Whatever you apply on your face gets absorbed by your skin and reaches your bloodstream. Therefore, the bleaching agents of fairness creams can cause severe health issues such as boils, skin infection and even cancer, in some cases. However, when you allow Ayurvedic products to work on your skin, the herbal ingredients reach your bloodstream that further helps in cleaning your blood and thereby, reflecting a healthy glow on your skin. The ingredients present in Fairlook lotion possesses unbeatable properties which not only helps in making your skin smooth and shiny but healthy, at the same time.
Is Fair Look a dermatological product?
Yes, absolutely. The topical cosmetic is widely used to remove microorganisms and dirt from the skin with its Ayurvedic blend. Excess sebum blocks the skin pores that can lead to skin infections. The extra sebum can be deeply cleansed by the natural cleansing properties of the product. It is an Ayurvedic formula to minimize skin scars and to provide a glowing complexion.
You can get rid of pimples and pimple scars with the help of its continuous use and give your skin the best appearance without any surgical procedures. Getting ready at a good salon every time, can cost you a lot. Hence it is wise to use Ayurvedic products, regularly so that you be always ready and confident for any outing or event. Fair Look is an absolutely pure natural lotion for glowing skin. It does not contain harsh chemicals and slowly and gradually bring out your hidden beauty.
I have dry skin tone can I use the product?
Yes, every person can use the product irrespective of gender, age and skin tone. It doesn't matter whether you have oily skin or a dry skin; Fairlook is an Ayurvedic skin-friendly formula which means that it can suits all skin types, without any troubles.
The moment you wash your face, the applied cosmetic products evacuates immediately and artificial glow leaves your skin, it might even cause skin allergies sometimes. However, this is not the case with the Ayurvedic products; they keep your skin hydrated, clean and glowing for a long time plus reduce the chance of dryness, dullness and acne problems.
Ayurvedic Products vs. Chemical Products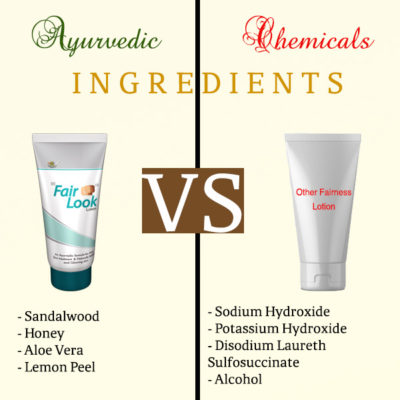 It is true that chemical products provide you with instant glow but it takes a toll, by making your skin weak and unhealthy in the long run. Obsession with natural beauty particularly use chemical free products to remain youthful for eternity is common and Fairlook is one answer for it. The chemical blend can never give you the appearance that you want for a long time. And even if it does, the results are temporary and short-lived along with being highly expensive.
Natural plants are highly powerful and way more beneficial than you think. Man-made ingredients can never surpass the flower power. Therefore, with multiple benefits available in a single plant, Ayurvedic locations are always affordable and more beneficial. If you feel doubtful, just try out any chemical face mask… it peels off like orange or papaya and feels your skin tingling more than any chemical product.
Are there any side effects of using fair look?
Fairlook is an Ayurvedic remedy, therefore, it has nothing to do with side effects on any skin type. Ingredients like Aloe Vera, Turmeric and Sandalwood helps to repair dead skin cells, reduce acne, scars and gives a glow to the skin. It does not contain any toxic substances or instant glow providing chemical hence it takes time to deliver results. Fairlook wants to deliver the users with the safest option that is best for their skin.
Final words
Fairlook aims at creating a product that can deliver pure and pleasant experiences to its users. It aims at changing the notion that the fairness products can only be formulated by using chemicals. It helps for glowing complexion along with minimizing skin concerns like pigmentation, blemishes and acne. Instead of trying different natural treatments for dark spots, Try Fairlook and notice the difference.